Testimonials
I have been leasing and showing Red (Over the Moon) with the McCadden's for the last 2 years and it has been a life-changing experience. Finding a program with trainers who spend time building trust and ensuring we are doing what is best for both the rider and the horse was imperative to my continuing to pursue leasing and showing. The personalized instruction I get from Liz and Tom has helped me grow not only as a rider, but as a person. The McCaddens's have created a wonderful and supportive program where I feel confident and prepared each time I step into the ring. I know that they have given me the tools and knowledge I need to be successful. Their extensive expertise, attention to detail, and deep understanding of horsemanship has provided me with the confidence I needed and has helped Red and I create a lasting partnership built on trust and understanding.
Amanda
I've been riding with the McCadden's for several years before deciding to take my riding to the next level & start showing. As I was making the transition, I remember thinking "there can't be that much of a difference, right?". Well, I have never been happier to be proven wrong, because the difference is vast & wide.
With her professional eye, Liz immediately identified my issues, broke them down into manageable pieces, and diligently worked with me so that my riding became more effective. In addition, Tom worked tirelessly with my horse to establish a crucial foundation of trust & safety, allowing him to become more receptive to training. This practice, one of caring enough to do better by both horse & rider, has paid off more times than I can count and ultimately led us to winning Grand Champion in our last show.
I'm thrilled to have found a trainer & school that brings out the best in the horse & the confidence in the rider. My question is no longer "what's the difference", but rather "what's next" and I can't wait to find out.
Lydia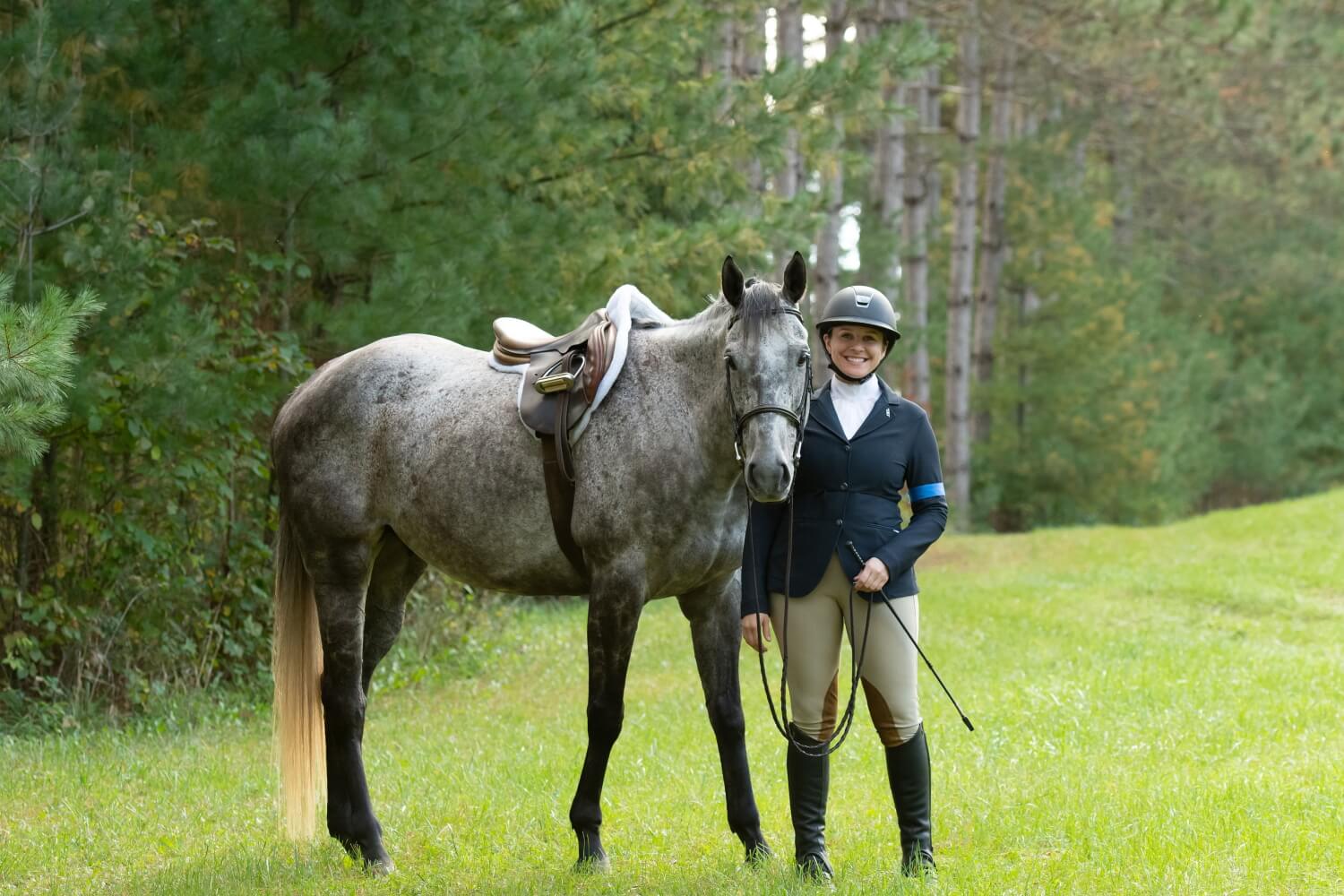 I've been riding with Liz and Tom for about 10 years now. I tripped over their website one day, took their Intro class, and never looked back. Over the years, I've learned how fortunate I have been to join their program. They have built my education in riding and horses from the ground up; they have taught me not only how to ride well but also how to be a horse person, and I've watched on as they have done the same with many other riders. Liz is an excellent teacher and coach. Among the students, we joke about how crazy it is that she sees everything - how she never misses a detail - and she grooms her riders to be the same way: attentive to details and always present.
The first time I ever participated at a horse show was with Liz and Tom on one of their horses. Short of actually holding my hand, Liz coached us through our classes and we walked away with a pile of blue ribbons and Champions in our division! I have to assume that isn't a typical first-show experience, but it is an example of how much trust and talent Liz and Tom are capable of nurturing in their horses and riders. Today, I have my own horse, George. Tom and Liz have been training us in our first season showing together. George came with no previous training or show experience and we have all put in a lot of time and work to get into shape. Tom and Liz have been there every step of the way, developing a training program for us and being attentive to his health, happiness, and progress. There is one show left in the RPHSA circuit this season and I am very proud to say George has qualified for Finals and is in contention for Year End Awards for both Hunters and Equitation!! Thank you Liz and Tom!!
Maria
I began riding with Tom and Liz more than five years ago, and it was one of the best decisions I've ever made. Although I took lessons as a child, I'd taken a 30-year hiatus from riding. I was more than a little rusty! Together, Tom and Liz provided me with the knowledge and skills to become a more confident rider, who enjoys being in the show ring. They also helped me find a horse who is a great match for my current abilities and future goals. I could not be more pleased with my boy, Beckett! Their guidance and innate understanding of horses were invaluable as Beckett and I began our journey together. Tom and Liz have staunchly supported us on our good days and our bad, while helping us to sharpen our skills and become a team. Their expertise, professionalism, and commitment to both horse and rider shine through in all their decisions. I've grown so much with Tom and Liz, and I'm excited to continue on this journey with them!
Andrea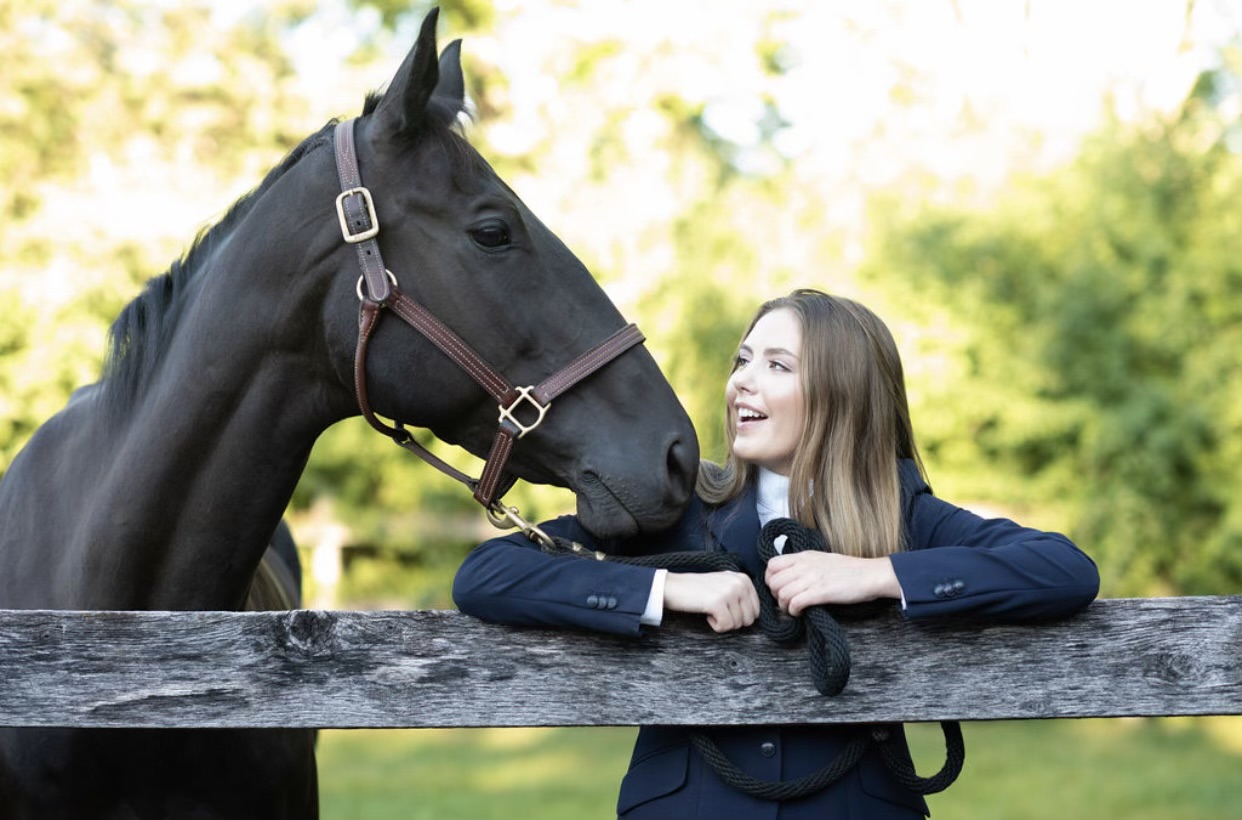 I found Tom and Liz's farm the summer before my senior year of high school. I had previously taken lessons at a different barn, but decided to leave. I toured the McCadens' facility and immediately was impressed by the high level of maintenance of their property.
I started with group lessons and I absolutely loved the supportive environment of the lessons. Everyone cheers you on and encourages you. I decided to lease a horse so I also had the privilege of having private lessons with Liz. She is an amazing trainer who really cares and pushes her students to be the best rider they can be.
Tom and Liz really care for their horses and riders. Tom is always around giving tips to better our horsemanship and tack care.
I was also fortunate enough to be able to show. Tom and Liz really make sure you and the horse are prepared to show. We always school the day before we show and they will school the horses to help settle them in and prepare you to ride them. Liz is also an excellent verbal coach during each of the events at the shows. She goes over each round right when you come out to be better prepared for your next round. I really hope to come back and ride as much as I can as college allows.
Rachel